THE THROWING POST
OKOBOJI'S HOT NEW ATTRACTION
COME SWING SOME AXES WITH US!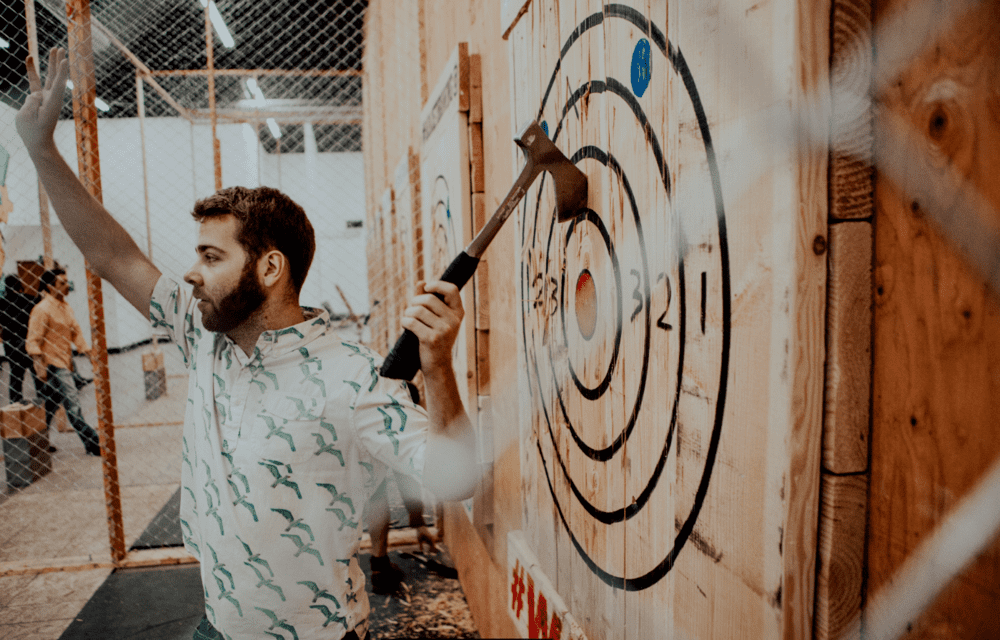 Must be 18+ to enter.
Must be 21+ to enjoy the bar.
Closed toed shoes are a must! Rentals available.
No outside axes or weapons allowed.
No outside beverages allowed.
What is axe throwing?
Think darts, but with axes.
Pretty straight forward, right?
Axe throwing has been traced back to the stone ages, and has been recognized as a safe and fun activity for adults of all ages. Never thrown an axe before? Our axe coaches will guide you through safety and throwing technique and set you up for some friendly competition with your friends. Enjoy a beer during your session, and order in some food of your choice from one of our preferred restaurants.
ABOUT THE THROWING POST
Opening summer 2019, The Throwing Post brings recreational axe throwing to the Iowa Great Lakes community.
We are a family owned and operated business, nestled in with some other local favorites between West Lake Okoboji and Highway 71.
Come throw some axes with us and grab a beer while you're here!
Reservations are recommended, but walk-ins are welcome based on availability.
Grip axe with one or two hands towards bottom of the handle. Step one foot forward.
Carefully bring axe back, overhead. Make sure the axe blade is straight.
Throw axe forward, releasing while arms are extended towards target.
FAQ
Is axe throwing safe?
Yes. Axe throwing is a fun and safe sport when safe techniques are used. Our coaches will guide you through safe practices. While we offer alcoholic beverage, responsible drinking is required and closely monitored at our facility.
What should I wear?
Dress comfortably and casual. Make sure to bring your closed toed shoes! Rentals are available.
What are the age requirements?
Due to the nature of the sport, we require that all throwers and spectators are 18 years or older.
Do you have league or other events?
Yes! We will announce league schedules throughout the year. We will also be offering corporate team building and can book large parties, including bachelor/bachelorette parties, holiday parties, birthdays, and more!